Another window opens...
That 50-year-old clipping, stuck to a home-made placard, picked up on the shul floor, and nested deep, an incidental artifact in an obscure website, caught someone's eye. Dean Kaner, a candy distributor and sometime-screenwriter from Scottsdale read out his grandfather's name, H. Hanoch Kaner, and told me this story...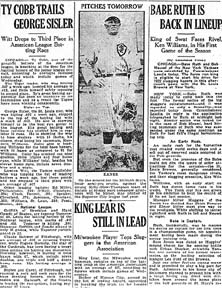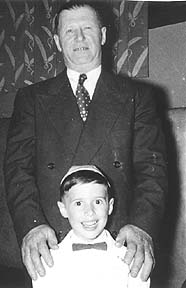 Superior Evening Telegram, May 20-21, 1922, "(Kaner) Pitches Tomorrow;" and 7-year-old Dean Kaner with his grandfather, Hank, in 1956
Dean went to Shul with his grandpa every Shabbos, (but was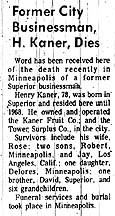 bar-mitzvahed at the Russiche Shul across the street) until he and his family moved away to Minneapolis in 1964. Dean was the kid, the only kid there among the old guys. As is the custom, he davened Annim Zemirut after Musaf.
Hank Kaner played ball in the '20's. He was a pitcher, a good one, as good or better than Walter Johnson? Dean said so, or maybe it was his father, or Hank himself who said it first. Cleveland did offer him a contract, but he turned it down because he wouldn't play on Shabbos. And that was it--no fame, no glory, no American dream fulfilled. When he died in 1975 in Minneapolis, the Superior Evening Telegram's brief obituary (4/1/75) fails to mention his aborted baseball career...
...But that's what Dean chooses to remember about his grandpa--the baseball legend--making it the kernel of an idealized fiction. He and Robert E. Ozasky turned the story into a copyrighted screenplay based on the life of Hank Kaner called "Hardball" the first page or so of which is reproduced here...
FADE IN:
EXT. KANER'S FOOD WAREHOUSE. DULUTH, MN. (1952) - DAY
ESTABLISHING. A large brick building at the edge of Lake Superior. It is a crisp, October day.
INT. OFFICE - DAY
HENRY KANER, tall, distinguished in his mid-fifties, sits at a polished wooden desk amid the otherwise modest decor. Dressed in a dark suit, with his shock-white hair and piercing blue eyes, Henry's looks belie his Lithuanian-Jewish heritage.
In one hand, Henry holds a stack of baseball cards depicting past World Series baseball pitchers. In the background a radio is tuned in to the game. The ANNOUNCER breaks in.
ANNOUNCER(V.O.)
This World Series should be a
good match between Stengel's
Yankees, and Charlie Dressen' s
Brooklyn Dodgers!
Henry stares at the cards, then drops the top one onto the desk. The card depicts New York Yankee pitcher, ALLIE REYNOLDS. Atop this card he drops another, pitcher EDMUND LOPAT. VICTOR RASHCI joins the group.
FADE IN OPENING MUSIC over TITLE SEQUENCE of cards dropping onto the pile. They include:
-HAROLD NEWHOUSER, DETROIT, AL-1945
-HENRY BOROWY, CHICAGO, NL-1945
-LOUIS NEWSOM, DETROIT, AL-1940
-SAMUEL DERRINGER, CINCINNATTI, NL-1940
-THOMAS BRIDGES, DETROIT, AL-1935
-LAWRENCE FRENCH, CHICAGO, NL-1935
-GEORGE EARNSHAW, PHILADELPHIA, AL-1930
-WILLIAM HALLAHAN, ST. LOUIS, NL-1930
-WALTER JOHNSON, WASHINGTON, AL-1925.
Henry pauses at Walter Johnson. He continues.
-RAY (REMY) KREMER, PITTSBURGH, NL-1925
-STANLEY COVELESKI, CLEVELAND, AL-1920
-BURLEIGH GRIMES, BROOKLYN, NL-1920
-GROVER ALEXANDER, BOSTON, AL-1915
-ERNIE SHORE, PHILADELPHIA, NL-1915
2.
-JACK COOMES, NEW YORK, AL-1910
-MORDECAI BROWN, CHICAGO, NL-1910
-CHARLES BENDER, PHILADELPHIA, AL-1905
-CHRISTY MATTHEWSON, NEW YORK, NL-1905
Henry drops the final card, RUBE WADDELL, PHILADELPHIA, AL-1905. This card is faded and taped across the center where it had been torn.
MUSIC AND TITLES FADE OUT.
DISSOLVE TO:
EXT. STREET IN SUPERIOR WISCONSIN (1910) - DAY
A small BOY'S HAND holds Rube Waddell's card. It is new and in good condition. Another boy speaks. He is ten year old MORRIE COHEN.
MORRIE(O. S.
Whoa! Where'd you get that?
Morrie, dressed in knickers, shirt, vest and cap, stares at the card with wide-brown eyes.
Crouching next to him is young HENRY KANER, also ten, fair complexted and recognizable by his blue eyes. He is dressed similarly.
HENRY
Mr. Meyer, the grocer. I delivered some food across town. He paid me with it!
Morrie is in awe.
MORRIE
Geez!
Suddenly from behind, three OLDER BOYS sneak up. Their leader, WILLY FOLSOM, breaks the jubilant mood.
WILLY
Looks like the Jew boys got
themselves a baseball card!
Henry and Morrie look up, startled. Willy towers above them large and tough. He snatches the card from Henry, who scrambles to his feet.
HENRY
Give that back Willy!
Henry goes after the card but Willy pushes him hard.
(etc.)